The Iliopsoas Muscle and its Frequently Overlooked Syndrome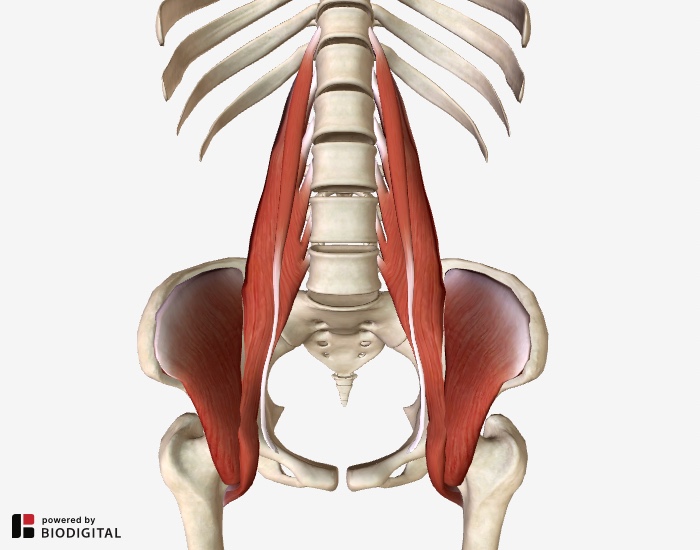 The iliopsoas is comprised of two muscles: the iliacus and the psoas.
iliopsoas anatomy: two muscles in one
The iliopsoas muscle is one of the most complex and least understood muscles in the body. Comprised of two muscles -- the iliacus and the psoas -- there are two separate origins (or starting attachments to bone) but one common insertion (ending attachment to bone). 
The psoas major attaches along the lumbar spine and intervertebral discs then descends obliquely to attach at the upper inner thigh bone, called the lesser trochanter of the femur.
The iliacus muscle attaches to the upper two-thirds of the iliac fossa then descends to join the psoas major tendon, with some of its fibers attaching directly to the femur at the lesser trochanter.
The primary function of the iliopsoas is hip flexion, also known as flexion of the thigh. This is the muscle which lifts the leg to take a step in walking.
But due to its attachment along the lumbar spine, the psoas plays a major role in maintaining upright posture.
It can also assist in extending the lumbar spine in conjunction with the muscles of the back.
When hypercontraction causes this muscle to become functionally short, the psoas distort the lumbar vertebrae and can contribute to pelvic torsion.
Right side view of psoas muscle. Hypercontraction can reduce natural lumbar lordosis.
Long hours of sitting, whether driving or seated at a desk, can allow the iliopsoas to adapt into a shortened position especially if regular stretching is not done.

the diaphragm muscle, the PSOAS muscle and breathing
One of the least-discussed topics in the literature is the relationship between the diaphragm muscle, which controls breathing, and psoas muscle which is positioned just below it.
The diaphragm is what pulls air into, and expels air out of, the lungs. Here is its action. The animation is interactive. You can zoom in, spin the model around, etc.
If we consider the diaphragm and the psoas together we can begin to get a sense of the importance of their relationship. Here the diaphragm and the psoas muscle are shown together.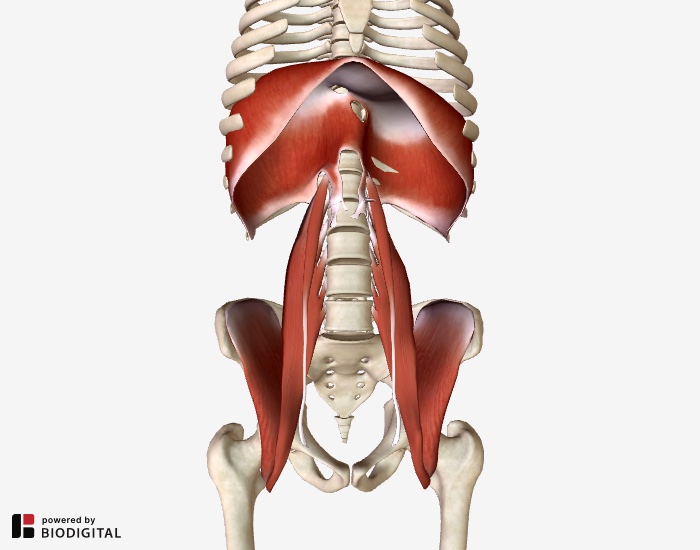 Diaphragm and iliopsoas
If we look closely, we can see the actual interweaving of the two muscles at T12 through L2.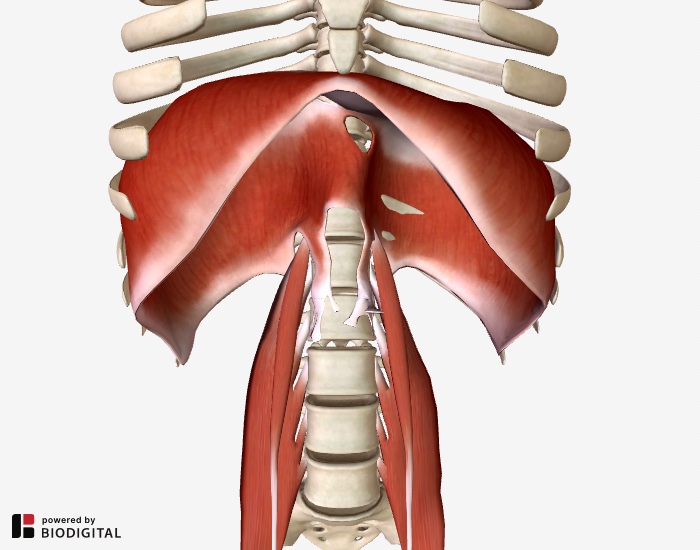 Diaphragm and psoas muscles. Close front view.
What's most unique about the diaphragm muscle and the psoas muscle, however, is their physical position and orientation to the abdominal viscera.

As you can see below, all of our digestive organs are packed into the space just below the diaphragm.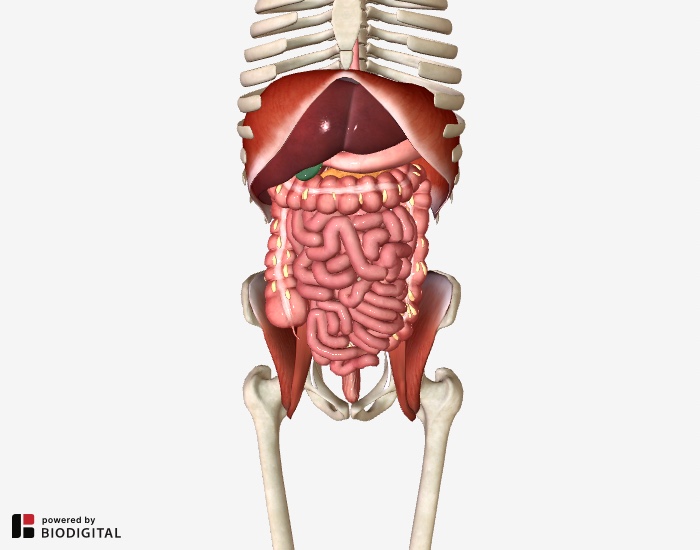 Digestive organs packed in below the diaphragm and on top of the psoas.,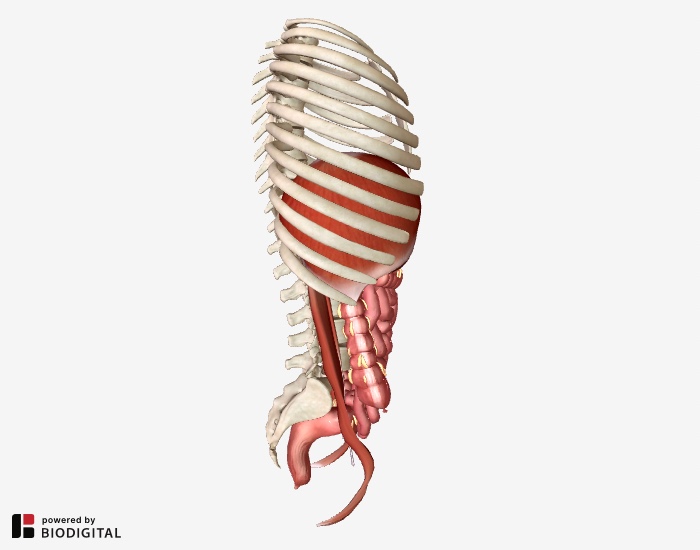 Digestive organs packed in below the diaphragm and in front of the psoas. Side view.
All these organs are contained within a sac called the peritoneum. Imagine this sac as being like a big water balloon.
In normal, healthy, relaxed breathing, the diaphragm flexes down on this water balloon causing it to flex and bulge. With every breath, this bulging and reshaping acts as a kind of massage for the psoas.
The normal respiratory rate for an adult is 12 to 20 breaths per minute. That calculates to 720 to 1200 breaths per hour or 17,280 to 28,800 breaths in a 24 hour period.
That's an extraordinary opportunity for the action of breathing to be exerting a positive impact on the psoas.
When our breathing is shallow or paradoxical, on the other hand, the diaphragm does not flex down fully in this beneficial manner.
In shallow or paradoxical breathing, the abdominal muscles can remain clenched causing two unwanted effects:
Abdominal clenching -- that is, the abdominal muscles held in a persistently contracted state -- reduces the space and capacity for the diaphragm to flex downward, thus disabling a full breath, and severely limiting the beneficial downward pressure on the water balloon-like peritoneum.
Abdominal clenching reduces flood flow to the region. Like a clenched fist in which the knuckle goes white, persistently contracted abdominal muscles push a healthy blood flow out of the abdominal region setting the stage for the iliopsoas to become ischemic.
Ischemia, then, sets the stage for Iliopsoas Syndrome.
Iliopsoas Syndrome
When the psoas muscle or iliacus muscle becomes ischemic it can be the source of a bewildering variety of mysterious and hard-to-diagnose pain.
In Myofascial Pain and Dysfunction: The Trigger Point Manual, by Janet Travell M.D. (personal physician to President John F. Kennedy) and David Simons, M.D., this muscle is referred to as "the hidden prankster."
These two eminent and long-time pain researchers could hardly have come up with a more fitting label for this muscle.
In my clinical experience I have found that dysfunction of the iliopsoas — commonly referred to as Iliopsoas Syndrome — is responsible for more unexplained back, hip and leg pain than any other single cause.
Potential regions of pain
During my 30 years in clinical practice treating iliopsoas dysfunction, clients have presented with pain in following areas...
The problem an individual may face when being examined by a physician not trained in muscular problems is that examination of any of the above areas of pain may reveal exactly nothing.

Many standardized allopathic tests, including neurological tests, will come back normal because they are not tests designed to evaluate muscular problems. Such problems can only be properly assessed with skilled palpation and knowledge of musculoskeletal dysfunction.
Of particular difficulty in the case of the iliacus is the fact of its hidden location. This muscle is not easy to palpate if you don't have any practice at it. The psoas is more accessible but no less intimidating to palpate, much less treat, if you're unsure of what to do.
causes of Iliopsoas Syndrome
A very common problem for the iliacus and psoas is that they both can shorten over time, especially in those individuals who sit for long periods of time.

Prolonged sitting in which muscles are in a shortened state for extended periods can lead to the muscles adapting to this position.
Once in an adapted state, muscles have trouble returning to their normal resting length. This is a basic characteristic of muscle function.
The Cross-Bridge Theory, which attempts to explain the contractile action of muscle tissue, asserts that, once contracted, a muscle cannot lengthen on its own.
The contractile units of the muscle (sarcomeres) must be stretched back to their original resting length by an outside force (such as an opposing muscle group) before the muscle is able to actively contract and relax again.
Can you just stretch the muscle out then?
Yes... if the proper type of stretching is done. For example, I have found the method of Active Isolated Stretching to be vastly superior to static stretching, especially in cases where muscles are stubbornly tight.

In some cases the stretching is enhanced by manual therapy because muscle fibers can become adhered or stuck together.
Sometimes this "adhering" is within the muscle itself. Other times the compartment of one muscle can become adhered to the compartment of another muscle.
In both cases the attempt of the muscle to fully lengthen or fully contract is impeded. This results in a dysfunctional muscle which can be painful in and of itself, but also can result in compensatory muscle patterns throughout the body.
This is one reason, for example, a dysfunctional iliopsoas muscle on the right side of the body could result in pain on the left side of the body. One side of the body might be fixed in place while the other side might be strained from overuse.
consequences  of chronic  muscular contration
If a muscle cannot return to its normal resting length, it then resides in a state of chronic contraction and numerous undesirable consequences can result:

1. Ischemia

A chronically contracted muscle can become ischemic (low blood flow). Imagine the white knuckles of a clenched fist. No blood flow there. An ischemic muscle is often a painful muscle.
2. Trigger Points

A chronically contracted muscle can develop trigger points which refer pain (or numerous other possible sensations – thermal, tingling, numbness, aching) either radiating out from the muscle or felt in other parts of the body.
3. Distorted Movement Patterns

A chronically contracted muscle can distort the movement of the joint it crosses. For example, a chronically tight iliacus could reduce movement at the front of the hip.
4. Muscular Compensation

A chronically contracted muscle can cause other compensations or distortions in the body. If a chronically tight iliacus, for example, reduces movement in one hip, then the other hip or the spine or other parts of the body will be called upon to compensate or to change their normal pattern of movement.
5. Nerve Entrapment

A chronically contracted muscle may be responsible for entrapment of nerves, another cause of pain. In the case of the iliopsoas, entrapment of the following nerves is possible: the femoral nerve, the lateral femoral cutaneous nerve, the femoral branch of the genitofemoral nerves, the iliohypogastric nerve and the ilioinguinal nerve.
postural distortion & Iliopsoas Syndrome
Lastly, it's essential to look closely at the relationship between Iliopsoas Syndrome and postural distortion.
In order to resolve a wide range of mysterious, persistent, or "unexplained" pain and symptoms throughout the body, including Iliopsoas Syndrome, it can be crucial to resolve postural distortion.
First, there are two primary postural distorton patterns:
1) Pelvic torsion, also known as a twisted pelvis, and... 
2) Hyperflexion, also known as a forward head posture.
Distortion patterns like these are caused by muscle imbalances.
In other words, when some muscles are tight and short, and other muscles are weak or strained, the body can get pulled out of vertical, balanced alignment.
For example, in the case of a twisted pelvis (pelvic torsion) it's common to find one of the iliacus muscles to be stuck in a tight, fixed position.
In the case forward head posture (hyperflexion), it's common to find the iliopsoas to be locked tight and short on both the right and left sides.
Two final questions to answer:
Do Iliopsoas Syndrome CAUSE postural distortion?
Or does postural distortion CAUSE Iliopsoas Syndrome?
The answer is that both can be true.
Muscular imbalance or dysfunction in the iliopsoas (as a result of not stretching, habitual sitting, shallow breathing or other causes) can result in postural distortion.
Likewise, postural distortion caused by imbalances in other muscles of the body (for example, tight leg or shoulder or torso muscles) can result in Iliopsoas Syndrome.
Therefore, relieving Iliopsoas Syndrome is often greatly enhanced by also resolving postural distortion patterns.
what to do
Due to the outpouring of inquiries I've received about Iliopsoas Syndrome, I have developed two self-paced online courses for addressing this problem. The first was released in 2013, the second in 2020.
Included here is an overview of both courses, including what's specifically covered in each, their differences and their particular strengths.
the 2013 Course
In 2013 I released my first online course: Healing the Hidden Root of Pain: Self-Treatment for Iliopsoas Syndrome (Also available as a 2-Disc DVD set).
Because of the many, many online inquiries I was receiving about Iliopsoas Syndrome I decided to create a course that could be available to a wider audience than those who could come to my clinic in Vermont. 
The course mimics the treatment protocol I use with clients when working with them over a period of weeks and teaches a 4-Phase system.
The 4 phases are specifically designed to provide lasting relief for the dysfunction of the iliacus and psoas muscles, collectively referred to as Iliopsoas Syndrome.
Healing the hidden root  of pain
course overview
Phase 1: Self-Massage for the Iliopsoas
Detailed massage treatment interrupts trigger points (the cause of referred pain) and also prepares the iliopsoas for the movement, stretching and toning to follow. 
Phase 2: Diaphragmatic Breathing & Somatic Movement
The restoration of proper breathing (crucial for improved blood flow to the iliopsoas) and the reawakening of fine motor control of the muscles of the pelvis comprises Phase 2.
Phase 3: Active Isolated Stretching
In Phase 3 we restore length and flexibility to the iliopsoas and its synergists using the powerful and innovative stretching method: Active Isolated Stretching.
Phase 4: Toning & Strengthening
In Phase 4 we activate both the core muscles and also the antagonists of the iliopsoas in order to restore reciprocal muscular balance.
This course is detailed and targeted and, for many, it is a solid starting point for relieving Iliopsoas Syndrome.
But it is not the only possible starting point to resolve this problem.
Let me explain…
What's not addressed in Healing the Hidden Root of Pain is the larger issue of postural distortion.
As I discuss above, postural distortion can be a root cause of  Iliopsoas Syndrome.
But why, then, wasn't this addressed in Healing the Hidden Root of Pain?
Because in 2013 I hadn't yet developed a clear, accessible protocol that anyone could use for improving postural distortion. I hadn't yet created the Flexibility Diagnostic, my proprietary flexibility scoring system.
The flexibility diagnostic
The Flexibility Diagnostic allows anyone, anywhere to comprehensively identify ALL their tight and short muscles, from head to toe.
Why is this important?
Because it is our tight and short muscles are responsible for pulling the body out of alignment.
It is our tight and short muscles that are responsible for postural distortion.
step 1 in resolving postural distortion
The first step in resolving postural distortion to clearly identify ALL tight and short muscles and regions of the body.
This can be difficult because tight and short muscles are often NOT symptomatic.
It's more common for strained and weak muscles to be symptomatic and painful, and for us to focus all our attention on these.
Because tight and short muscles often don't hurt, we don't notice them. In effect, tight, short muscles can remain HIDDEN from view.
The Flexibilty Diagnostic solves this problem.
step 2 in resolving postural distortion
The second step in resolving postural distortion is to comprehensively lengthen ALL tight and short muscles and muscles groups.
This brings us the course released in 2020:
Stretching Blueprint for Pain Relief and Better Flexibility: The Complete Guide to Active Isolated Stretching.
The Flexibilty Diagnostic is one of the central components of the 2020 course.
the 2020 course
The 2020 course — Stretching Blueprint for Pain Relief and Better Flexibility: The Complete Guide to Active Isolated Stretching — picks up where the 2013 course left off.
But the Stretching Blueprint has a much wider focus, designed to relieve pain in the whole body.
Through years of clinical practice and research it has become clear to me that the greatest number of problems can be resolved with a whole-body focus. This is also how we achieve the most lasting relief.
The Stretching Blueprint tackles this ambitious goal.
Not only is the 2020 course designed to address problems with the iliopsoas caused by postural distortion, but it aims to relieve pain and dysfunction in the whole body.
With the aid of the Flexibility Diagnostic, individuals are guided through a comprehensive self-assessment for the entire body which results in the creation of a highly individualized stretching routine  — Your Stretching Blueprint.
stretching blueprint
course overview
Module 1 - Getting Started: Your Blueprint Foundation and Resources
In this Module we lay the foundation and answer such questions as: What's wrong with static stretching and the No Pain, No Gain mindset? What is Active Isolated Stretching and why is it so effective? What is Progressive Ease and how can we use it to our best advantage? 

The following modules guide you through comprehensive stretching from head to toe using Active Isolated Stretching. As you complete each video, your flexibility is scored on the Flexibility Diagnostic:
Module 2 - Stretching Foundation for the Legs
Module 3 - Stretching Foundation for the Hips, Lower Back, Spine and Abdominals
Module 4 - Stretching Foundation for the Torso, Chest, Shoulders, Arms and Hands
Module 5 - Stretching Foundation for the Neck

We then build the blueprint.
Module 6 - Creating Your Stretching Blueprint
Here we take the data you've collected in your Flexibility Diagnostic, build your individualized Stretching Blueprint, and also take a look at a sample blueprint.
Additional bonus routines are provided to add variety to your blueprint.
Module 7 - Bonus Content
Supplemental Evening Routine
Supplemental Midday Routine
Supplemental Morning Routine
how to use these 2 courses
First, you can't go wrong here. All my courses have an unconditional 30-day refund guarantee. So you are free to try out one or both courses to see what works for you. If a course isn't of value, you can simply request a refund. No questions asked.
But which course should I start with?
If you are experiencing so much pain that simple movement and activity is fairly restricted, I would recommend this order:
1. Healing the Hidden Root of Pain (Targeted relief)
2. Stretching Blueprint for Pain Relief and Better Flexibility (Global relief)
But if your pain is a persistent annoyance but doesn't prevent simple activity, I would recommend this order:
1. Stretching Blueprint for Pain Relief and Better Flexibility (Global relief)
2. Healing the Hidden Root of Pain (Targeted relief)
learn more about these innovative courses
| | | |
| --- | --- | --- |
| | | The only course available anywhere specifically designed to relieve the pain and symptoms of Iliopsoas Syndrome. |
| | | |
| --- | --- | --- |
| | | This course breaks new ground in relieving stubborn "unexplained" pain in the whole body as well as resolving postural distortion patterns. |
discounted 2-course bundle
Take advantage of direct checkout and a 30% discount with a 2-course bundle. Save $64 over the price of purchasing courses separately.

---
Return to Top | Causes Index | Home Page
Anatomy Images Courtesy of BIODIGITAL
The Iliopsoas Syndrome Forum

THE FORUM IS CLOSED TO NEW SUBMISSIONS BUT YOU'RE WELCOME TO EXPLORE TO DETERMINE IF  THIS IS THE PROBLEM YOU'RE STRUGGLING WITH.


What Other Visitors Have Said
Click below to see contributions from other visitors to this page...