---
Iliopsoas Syndrome

The Hidden Root of Pain
by Stephen O'Dwyer, CNMT

The Hidden Prankster

The iliopsoas muscle is one of the most complex muscles in the body. When it becomes dysfunctional (either excessively short and tight, or overstretched and strained) it can be the source of a bewildering variety of mysterious and hard-to-diagnose pain.
Among the most common problems caused by dysfunction of this muscle is lower back and hip pain. But many other regions of the body can also experience pain.
In Myofascial Pain and Dysfunction: The Trigger Point Manual, by Janet Travell M.D. (personal physician to President John F. Kennedy) and David Simons, M.D., this muscle is referred to as "the hidden prankster."
These two eminent and long-time pain researchers could hardly have come up with a more fitting label for this muscle.
In my clinical experience I have found that dysfunction of the iliopsoas — commonly referred to as Iliopsoas Syndrome — is responsible for more unexplained back, hip and leg pain than any other single cause.
Lasting Relief for Unexplained Lower Back, Hip and Leg Pain

Potential Regions of Pain

During my 27+ years of treating iliopsoas dysfunction, clients have presented with pain in following areas...
The problem an individual may face when being examined by a physician not trained in muscular problems is that examination of any of the above areas of pain may reveal exactly nothing.

Many standardized allopathic tests, including neurological tests, will come back normal because they are not tests designed to evaluate muscular problems. Such problems can only be properly assessed with skilled palpation and knowledge of musculoskeletal dysfunction.
Of particular difficulty in the case of the iliacus is the fact of its hidden location. This muscle is not easy to palpate if you don't have any practice at it. The psoas is more accessible but no less intimidating to palpate, much less treat, if you're unsure of what to do.
Anatomy: Two Muscles in One

The iliopsoas is actually comprised of two muscles: the psoas muscle and the iliacus muscle.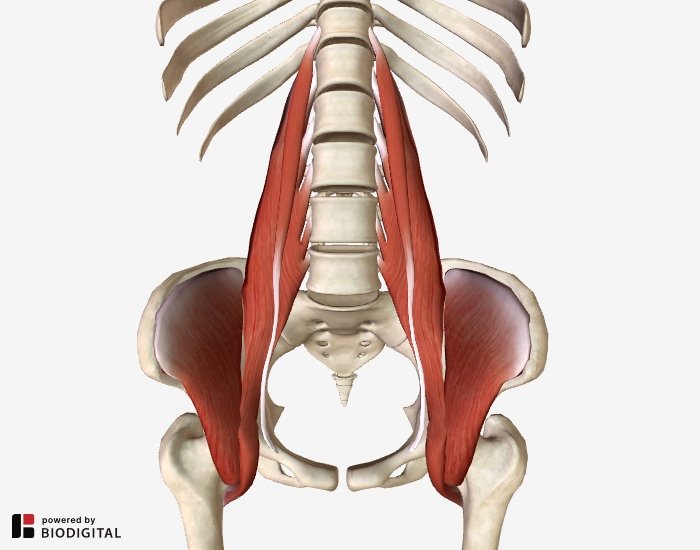 The psoas major muscle attaches along the lumbar spine and intervertebral discs then descends obliquely to attach at the upper inner thigh bone (lesser trochanter of the femur).
The iliacus muscle attaches to the upper two-thirds of the iliac fossa then descends to join the psoas major tendon, with some of its fibers attaching directly to the femur near the lesser trochanter.
The primary function of both the psoas and iliacus is hip flexion, also known as flexion of the thigh. In other words, these muscles lift the knee to take a step in walking.
But due to its attachment along the spine, the psoas plays a major role in maintaining upright posture. It can assist in extending the lumbar spine and, when excessively short, can contribute to excessive lumbar lordosis.
Cause of Iliopsoas Syndrome

A very common problem for the iliacus and psoas is that they both can shorten over time, especially in those individuals who sit for long periods of time.

Prolonged sitting in which muscles are in a shortened state for extended periods can lead to the muscles adapting to this position.
Once in an adapted state, muscles have trouble returning to their normal resting length. This is a basic characteristic of muscle function.
The Cross-Bridge Theory, which attempts to explain the contractile action of muscle tissue, asserts that, once contracted, a muscle cannot lengthen on its own.
The contractile units of the muscle (sarcomeres) must be stretched back to their original resting length by an outside force (such as an opposing muscle group) before the muscle is able to actively contract and relax again.
You might ask, Can't you just stretch the muscle out then?
In some cases, yes, if the proper type of stretching is done. For example, I have found the technique of Active Isolated Stretching to be vastly superior to static stretching, especially in cases where muscles are stubbornly tight and short.

But in some cases even this type of stretching must be preceded by manual therapy in order to enable the muscle to fully lengthen. The reason for this is that the fibers of a muscle can become adhered or stuck together.
Sometimes this "adhering" is within the muscle itself, and sometimes one muscle can become adhered to another muscle.
In both cases the attempt of the muscle to fully lengthen or fully contract is impeded. This results in a dysfunctional muscle which can be painful in and of itself, but also can result in compensatory muscle patterns throughout the body.
This is one reason a dysfunctional iliopsoas muscle on the right side of the body, for example, could result in pain on the left side of the body. The left side might be getting severly overworked.
But there are many reasons for the variety and complexity of pain from this "syndrome."

Consequences of Chronic Muscular Contraction

If a muscle cannot return to its normal resting length, it then resides in a state of chronic contraction and numerous undesirable consequences can result:

1. Ischemia

A chronically contracted muscle can become ischemic (low blood flow). Imagine the white knuckles of a clenched fist. No blood flow there. An ischemic muscle is often a painful muscle.
2. Trigger Points

A chronically contracted muscle can develop trigger points which refer pain (or numerous other possible sensations – thermal, tingling, numbness, aching) either radiating out from the muscle or felt in other parts of the body.
3. Distorted Movement Patterns

A chronically contracted muscle can distort the movement of the joint it crosses. For example, a chronically tight iliacus could reduce movement at the front of the hip.
4. Muscular Compensation

A chronically contracted muscle can cause other compensations or distortions in the body. If a chronically tight iliacus, for example, reduces movement in one hip, then the other hip or the spine or other parts of the body will be called upon to compensate or to change their normal pattern of movement.
5. Nerve Entrapment

A chronically contracted muscle may be responsible for entrapment of nerves, another cause of pain. In the case of the iliopsoas, entrapment of the following nerves is possible: the femoral nerve, the lateral femoral cutaneous nerve, the femoral branch of the genitofemoral nerves, the iliohypogastric nerve and the ilioinguinal nerve.
What to Do

Due the outpouring of inquiries I've received about Iliopsoas Syndrome I've developed a self-treatment system for home use.
This system mirrors the treatment protocol I follow when treating clients at my office over the course of a number of weeks.
This system is now available in two formats: 2-Disc DVD set and Instant Online Streaming. It's called, Healing the Hidden Root of Pain: Self-Treatment for Iliopsoas Syndrome. Learn more...
Lasting Relief for Unexplained Lower Back, Hip and Leg Pain

Return to Top of Iliopsoas Syndrome
Go to Lower Back Pain Answers Home Page

The Iliopsoas Syndrome Forum

The Forum is currently closed to new submissions.

However, you're welcome to read the prior submissions of others to help determine if this problem is what you're struggling with.



What Other Visitors Have Said
Click below to see contributions from other visitors to this page...

Recommend this page...