---

Best Lower Back Stretches

Videos and Photos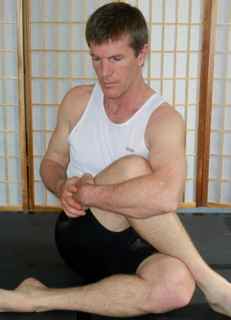 Lower Back Stretches To Relieve Back Pain
The lower back stretches included here range from the very gentle Somatic Pelvic Tilt to gluteal stretches to a combination stretch I've created called the Full-Body Mobilizer.
As you work through the back stretches here I urge you perform the movements slowly and gently.
It's a common myth that lower back stretches or back exercises might need to be a little painful in order for them to be effective.
The "no pain, no gain" mindset is of no use in a therapeutic context. Exercises which are uncomfortable will only serve to aggravate your lower back pain.
3-Part Somatic Pelvic Tilt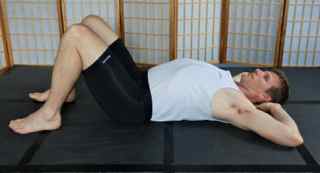 Back stretches such at the Somatic Pelvic Tilt are an excellent way to introduce a little movement to the lower back without creating too much strain.
It's a technique I often prescribe for clients experiencing significant pain.
However, it can also be part an excellent daily stretching routine for anyone who wants to improve lumbar mobility.
Gluteal Stretches - Part 1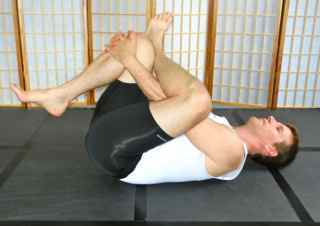 These back stretches begin to expose the intimate relationship between the lower back and the gluteal muscles.
In this sequence we begin to prepare the gluteal muscles for the deeper stretching routine in Part 2.
Gluteal Stretches - Part 2
This is a much more advanced stretching sequence which intensely isolates the gluteal muscles, especially the gluteus maximus.
It's important to work up to this sequence by making certain that Part 1 can be performed comfortably.
Full-Body Mobilizer
This is a more dynamic and complex movement among the lower back stretches offered by this site.
It's broken down into two parts. Please make certain you're able to do Part 1 comfortably before moving on to Part 2.
In fact, if Part 1 feels quite difficult, you may need to stick with The Basic Cat Stretch for a while and perhaps also pursue some lower back treatment.
Cat Stretch
This is one of the easiest back stretches. Most individuals can perform it quite easily and comfortably.
It's also a wonderful, simple movement for either first thing in the morning, or last thing at the end of the day.

1) Position yourself on your hands and knees, either on your bed or on the floor.

2) Very slowly, raise your head. As you do this, allow your belly to open downward toward the floor, and your back to fall into an arch. Move only as far as comfortable. Feel a nice stretch.
3) Then stretch your spine in the opposite direction by dropping your head, your chin moving toward your chest, while your back raises toward the ceiling. Move only as far as comfortable. Feel a nice stretch.

4) Repeat this movement back and forth 5-10 times. As you repeat, try to increase you range of motion, little by little.

5) Once the movement feels comfortable, it can be very beneficial to add a coordinated breath...

6) Breathe in as you raise your head and expand your belly toward the floor, arching downward.

7) Breathe out as your chin moves toward your chest, and your back arches toward the ceiling.

8) Repeat this movement with coordinated breathing 5-10 times. As you repeat, try to increase you range of motion, little by little.

See also:
Stretching Exercises
Benefits of Stretching
Hip Stretches
Hamstring Stretches
Home Lower Back Pain Remedy
Return to Top of Best Lower Back Stretches

Return to Stretching Exercises Main Page

Go to Lower Back Pain Answers Home Page



Recommend this page...